Regístrate: Seminario de investigación sobre COVID-19 y delito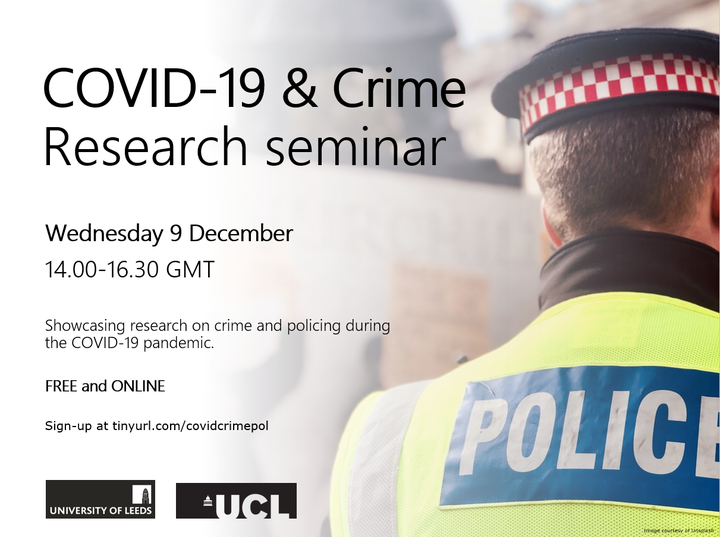 Me da mucho gusto haber sido invitado por el Profesor Graham Farrell para participar en el seminario de investigación sobre el impacto de la pandemia de COVID-19 en el delito y el trabajo policial. El seminario es parte de un proyecto de investigación financiado por el UKRI ESRC: Reducing the Crime Harms of the COVID-19 Pandemic.
Yo presentaré mi trabajo de investigación sobre los efectos de la pandemia de COVID-19 en los patrones delictivos de la Ciudad de México. Los trabajos presentados son:
Shane Johnson, Manja Nikolovska & Paul Ekblom. Policing, disruption and mobilisation through Twitter. An analysis of UK law enforcement tweeting practices during the COVID-19 pandemic.
Nick Tilley, Lara Adamson & Anthony Dixon. COVID-19 and Crime: Change and Continuity on the Railway.
Samuel Langton, Anthony Dixon & Graham Farrell. Six Months In: Pandemic Crime Trends in England and Wales to August 2020.
Anthony Dixon, Manne Gerell & Graham Farrell. Crime during the pandemic. A cross-national comparison between Sweden and England & Wales.
Patricio R Estévez-Soto. Crime and COVID-19: Effect of changes in routine activities in Mexico City
Matt Ashby. Changes in police calls for service during the early months of the 2020 coronavirus pandemic.
El seminario es gratuito y abierto al público en general. El evento será en inglés.
Fecha: Miércoles 9 de diciembre, 2020
Hora: 14:00-16:00 GMT (horario de Londres)
Lugar: En línea, regístrate ahora.