Register Now: COVID-19 and Crime Research Seminar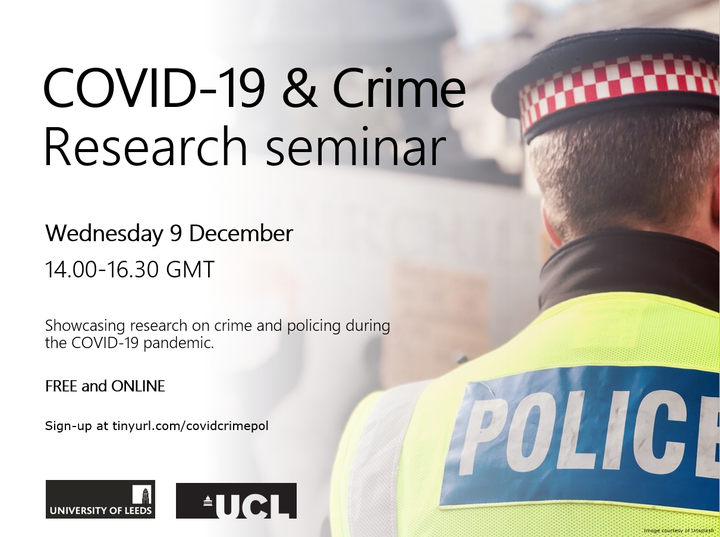 I'm thrilled to have been invited by Professor Graham Farrell to speak at a research seminar showcasing recent work on the impact of the COVID-19 pandemic on crime and policing. The seminar is organised as part of an UKRI ESRC grant focused on Reducing the Crime Harms of the COVID-19 Pandemic.
I will be presenting my research on the effects of the COVID-19 pandemic on crime patterns in Mexico City, though there are other fantastic speakers presenting their research. The speakers and papers that will be presented are:
Shane Johnson, Manja Nikolovska & Paul Ekblom. Policing, disruption and mobilisation through Twitter. An analysis of UK law enforcement tweeting practices during the COVID-19 pandemic.
Nick Tilley, Lara Adamson & Anthony Dixon. COVID-19 and Crime: Change and Continuity on the Railway.
Samuel Langton, Anthony Dixon & Graham Farrell. Six Months In: Pandemic Crime Trends in England and Wales to August 2020.
Anthony Dixon, Manne Gerell & Graham Farrell. Crime during the pandemic. A cross-national comparison between Sweden and England & Wales.
Patricio R Estévez-Soto. Crime and COVID-19: Effect of changes in routine activities in Mexico City.
Matt Ashby. Changes in police calls for service during the early months of the 2020 coronavirus pandemic.
The seminar is free and open to all.
Date: Wednesday December 9, 2020
Time: 14:00-16:00 GMT (London)
Location: Online, register now.